Even Caring Families Encounter Problems...but Healthy Families Seek Solutions
Give u
s a call at 918.745.0095
Brenda, Rachel, Tina or Terri are available to help!
Dear Friends,



Welcome to the first CFI newsletter of 2010. Our goal for our newsletter is to bring relevant articles, announcements and links to issues related to families, marriages, parenting and mental health concerns.

In this month's newsletter:
Mrs. Salley Sutmiller writes an article about sustaining good habits during the different seasons of marriage.

Also, Dr. Dale Doty writes about teenage cell phone use and responses by parents.

Finally, Dr. Tim Doty mentions the recent tragedy in Haiti and how we can respond locally and globally

A Time for Every Season
Happy New Year! As we begin a new year and a new decade, I'm reminded of the preacher's words in Ecclesiastes 3:1-8 (New International Version):

There is a time for everything, and a season for every activity under heaven
...
From cradle to grave, our lives are full of seasons. Some are good and some are not so good.
Marriage, too, holds many times and seasons. In addition to the routine ups and downs that are unique to marriage, you have the ups and downs of two individuals and any children they have.


Good seasons are welcome and we seem to cruise through without much thought. It's during times of stress and crisis that we find out what our marriages and we are made of.
It's important to realize, during these difficult times, that they will pass-things do change. Having difficulty in our marriage and with our spouse doesn't mean we have a bad marriage. It means we have problems we need to resolve.
The key is to establish good habits that can sustain us in good times and bad. In the spirit of the New Year, here are some suggestions for maintaining balance that is important for all seasons.
Don't shut down, but keep the lines of communication open. Sharing stresses divides the load.

Don't overreact to bad times, but act in a manner that encourages good times.

Don't blame others or the marriage, but realize that you can get through this time and grow together rather than apart.

Don't focus on the cause of the problem, concentrate on finding solutions. Work as a team. Your spouse's problem is your problem.

Don't withdraw from your spouse, but continue to spend time together doing things you enjoy.

Don't forget that your spouse is your friend and treat him/her accordingly.
Remember seasons change, and often, the times of greatest satisfaction are on the other side of the storm.

To see Mrs. Sutmiller's full article, please click
here
Salley Sutmiller, M.S., LMFT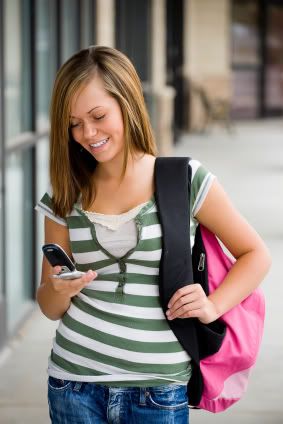 Cell Phones and Teenagers


"Increasingly cell phones are mentioned as part of the complaints that bring families to therapy. Cell phones are abused by adults as well as children. The focus of this article will concentrate on the complaints involving children and teens."

"Complaints that bring many parents to therapy regarding cell phone use, both voice and text messaging, is such a high priority of their teens that grades are often dropping, and parents describe having difficulty getting the attention of their children to important tasks and responsibilities. As cell phone use increases, teens have less interest in extracurricular and family activities."

Dr. Doty goes on to say: "Cell phones use and computer networking can become addictive. An addiction occurs when any behavior becomes obsessive. The addictive behavior interferes with other responsibilities such as school, work, family responsibilities, and previous interests."

Further, "the best solution is anticipation and prevention. Teens need guidance and supervision. Before the problems begin or when early warning signs emerge, rules need to be established for appropriate cell phone use. Teens must understand that cell phone use is a privilege and is provided conditionally."

To see Dr. Doty's specific recommendations, please view the full article
here
.
Dale Doty, M.S.W., Ph.D.
A Compassionate Response to the Haitian Earthquake



The recent news of the January 12 earthquake in Haiti leaves many of us feeling great sadness and compassion for the people affected by the tragedy. Many of us, with good intentions, want to respond and help in any way we can. In fact, some whose resources allow may feel a desire to board a plane and add to the ongoing relief efforts in person. However, our initial desire to act may not be the most sustainable and helpful responses.

Because of the need to respond to primary needs and rescue efforts urgently, philanthropy experts recommend giving monetarily to relief-aid groups who have an established presence in Haiti. It is more effective during the early stages of disaster relief and during ongoing rebuilding efforts to work with organizations that have leadership in place to respond to a needs-based assessment on the ground. New organizations to the area or individuals who join in aid efforts without connection to an organization may add to the chaos.

It is okay to wait on your giving. Reconstruction efforts will take time and monetary giving will be needed on an ongoing basis.

It can be anxiety-provoking to sit "idly by" when so much is needed in response to the Haitian earthquake. However, this is an instance in which relying on experts in the area (i.e. the Haitian people and established relief-aid workers) is perhaps a more compassionate response than rushing in with our "expertise." I would encourage you to donate monetarily and prayerfully to organizations that you already trust to do compassionate work for the needs of our world.

On a lighter note...

If we can be of service, please contact CFI to set up a time to consult with one of our counselors. We also provide psychological assessments and evaluations for ADHD and educational needs as well as pre-marital evaluations and counseling. To view our full range of services, please visit
www.CFItulsa.com
.
Sincerely,
Timothy Doty, Psy.D. on behalf of
Christian Family Institute

Our Staff includes:
Dale R. Doty, Ph.D.
William B. Berman, Ph.D.
G. Bowden McElroy, M.Ed.
Eric L. Clements, M.S.
Jill E. Butler, M.S.
Salley Sutmiller, M.S.
Lois K. Trost, M.S.W.
Jamie Brandon, M.S.
Amber R. Sherrell, M.S.
Timothy D. Doty, Psy.D.
Stephen Harnish, M.D.