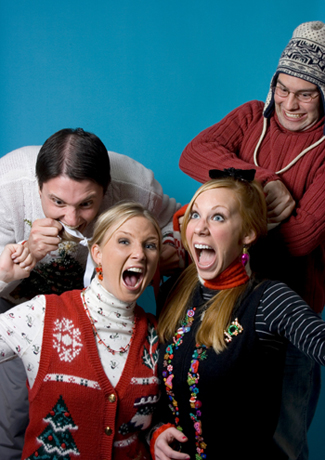 Dealing with Family Conflict
Christmas and the surrounding holidays provide an opportunity for celebrations and get-togethers with family members. For some, the Christmas season is truly a celebration. For others, the holidays are a time of disappointment, hurt, and conflict.
Common issues that emerge at this time of year may include:
Family members who abuse alcohol and other substances
Family members with psychiatric
Family members who have long standing conflicts
Marital problems or divorce
Incompatible lifestyles, or different beliefs and values
To handle the anticipated unpleasant get-togethers with some of these troublesome people, consider several strategies:
It is often best to meet at someone else's house so you can leave when you want to.

Choose not to be alone with the ones you have the most trouble with. Stay in groups.

Keep visits with the troublesome people short. If conflict emerges, excuse yourself

Drive yourself to the event, or have someone drive you that will agree to leave the event when you are ready to leave.
You can participate in a limited way without having to either make yourself too uncomfortable or eliminate yourself completely from the family gathering. Also, family therapy for extended or family-of-origin issues can empower you and help you know your options for keeping your peace during the holidays.
These tips are taken from the full article from Dr. Doty found here.
Dale Doty, M.S.W., Ph.D.
Dr. Berman's Top 10 List
Everything I always wanted to ask about Christmas as a Jewish child but was afraid to ask my Rabbi: 10. Why does Santa Claus think he's God? (He knows when you are sleeping and awake, bad and good!) 9. Why are there so many Christmas carols that don't mention Christ? 8. Why do Jewish store owners sing "What a friend we have in Jesus"? 7. Why do Gentiles try so hard all year long to keep house plants alive, then go buy a dead tree and cover it with things that don't grow on trees? 6. Why do Gentiles celebrate with alcohol at parties in preparation for such a holy day? 5. Why pay retail when everything goes on sale next week? 4. Why do some Gentiles make such a big deal about Christmas and never even go to church? 3. Do I have to believe in Santa Claus in order to become a Christian? 2. Does it cost more to celebrate Christmas than Chanuka? 1. If Christmas is supposed to be a time of joy and celebration, why do so many people get depressed?
Dr. Berman is a born-again Christian who was raised Jewish.
William B. Berman, Ph.D.
Christmas... a time of hope...a time of peace...a time of joy...Hum....
Instead of hope, peace and joy, I find myself at times feeling tired, irritated and full of frustration. I want my kids to remember the reason we celebrate Christmas in the first place. CHRIST. Sometime around the middle of November my name change to "Mama CanIhave". I asked the kids to come up with a list of gifts they would like to have. I received a Christmas list stapled to the toys-r-us catalog. Not only did he list fourteen video games, 5 board games, a new DS-I, an iPod touch, and a myriad of gift card requests, that sweet child had circled nearly EVERY boy item in that 50+ page catalog! (and a few girly items, too!) He also reminded that even though he knew there was no tooth fairy or Easter Bunny, he did still indeed believe in Santa Claus. I shook my head and decided that I needed to deal with this later for fear I would say something that would crush the spirit of that nine year old boy. I knew he needed a good "come to Jesus talk" as my mother would say. But, is this entirely his fault?? I wanted so badly to bless my children that they now feel entitled to ask for everything.
Where does this need to give to my children come from? I am a mother! I am a giver! I want to give to my children. How much more does our Heavenly Father want to give to us if only we believe? This past Sunday in church, the pastor stated, "Giving is to teach us to be givers, not receivers".
There is some redemption in this story. I did have a talk with my son about realistic expectations. My name has not changed back to "mama" yet, but shortly after Christmas I know it will.
My daughter told me yesterday, that instead of a bunch of presents she thought it would be a good idea to donate to St. Jude's in the name of our sweet friend who is battling cancer. My son agreed.
May the God of hope fill you with all joy and peace in believing, so that by the power of the Holy Spirit you may abound in hope.
-Romans 15:13
Jamie Brandon, M.S., LMFT
This article can be viewed in full here.